Photos: © Renée Binnenmars
Yesterday, Dujat and Oost NL organized an inspiring tour through Twente, with two highly entertaining and interesting key aspects in our programme: drones and beer. We started the tour at Space53 at the Technology Base to learn about the newest drone technologies, a drone demonstration and a bus tour around the Technology Base / Twente Airport. Next was a visit to Grolsch, which is part of the Japanese company Asahi since 2016. We had an extensive tour around the brewery, and of course concluded the programme with a kampai, beer tasting and a dinner buffet.
For this event we would like to extend our special thanks to our guests of honor H.E. Mr. Inomata, Ambassador of Japan to The Netherlands, and Mrs. Inomata, to Space53 / Technology Base, Robor Electronics, and Grolsch for their hospitality and sharing their knowledge, and of course to Oost NL (East Netherlands Development Agency) for the smooth organization of a very successful event. We heard many excited reactions from our members, and already look forward to visiting your region next time!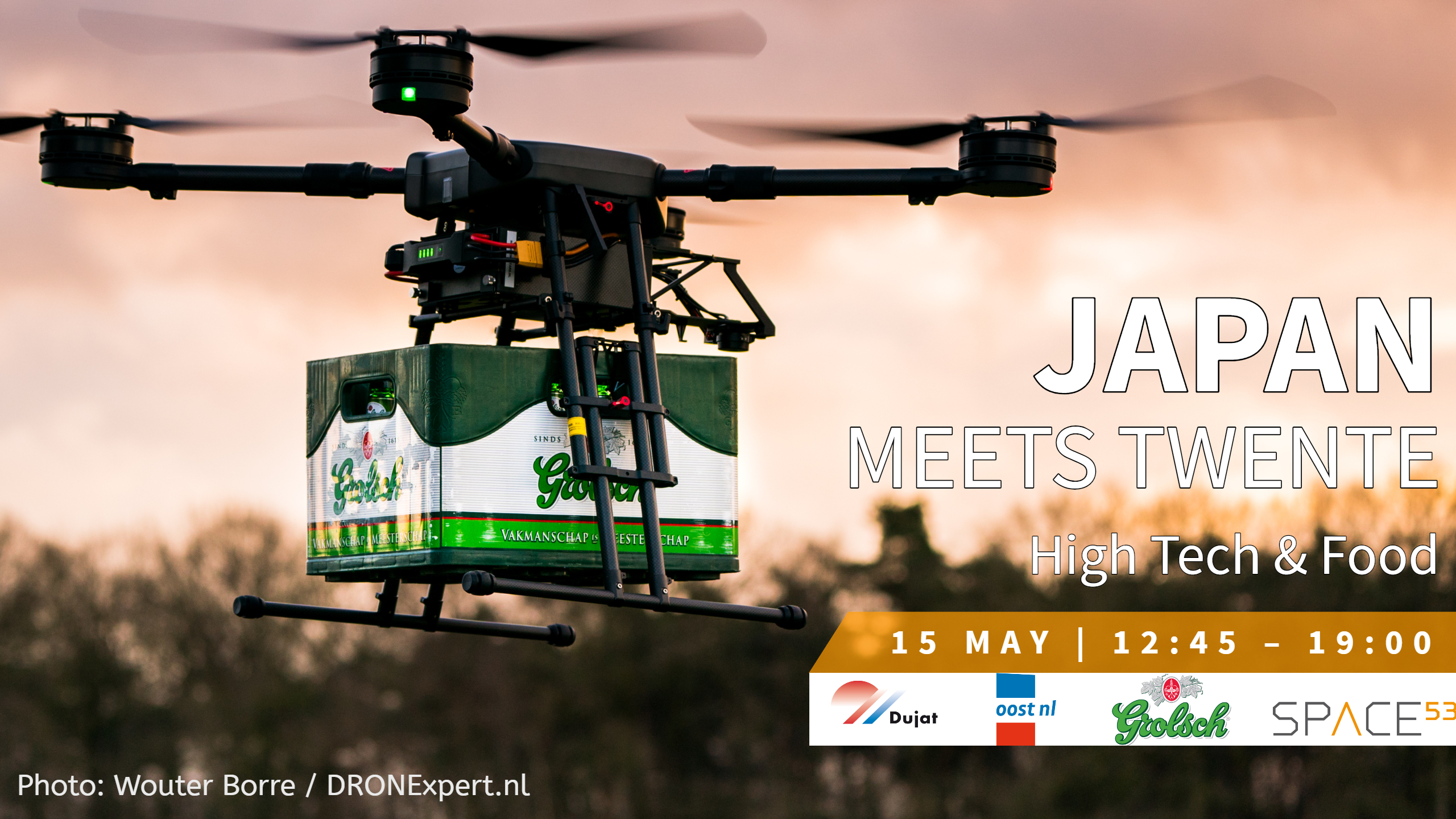 Dear members of Dujat,
Dujat and Oost NL are pleased to invite you for an inspiring tour through Twente, the entrepreneurial high-tech region of the Netherlands, on the 15th of May.
Twente is the region of living technology, making real-life testing of new robotic/drone technology possible. From lab testing to open test space, to public use and acceptance.
Especially when it comes to High Tech Systems and Materials, robotics, photonics and micro- and nano-technology Twente is a vibrant ecosystem. The University of Twente has a focus on High Tech research.
Did you know that booking.com, WiFi and Bluetooth were invented in Twente?
Twente is home to established businesses like Xsens, Demcon and Thales and institutes like MESA+ and the University of Twente but also to emerging companies like Clear Flight Solutions and Aircraft End-of-Life Solutions.
The area is also home to several Japanese companies, like: Asahi (Grolsch), Teijn Aramid, Omori, Toray /TenCate Advanced Composites, Shimano, Sekisui Plastics, Toyota Material Handling.
Date: Wednesday May 15th

Time: 12:45 – 19:00

Location: Technology Base/Space53 and Asahi/Royal Grolsch

For this event, we arrange transport from Amstelveen and back. The bus will depart at 10:30 from the public parking space near European Go Cultural Centre.

Everyone who travels by own transport, please note that the venue is not accessible by public transport, and you will require to either travel by Dujat Bus or car.
What can you expect?
You will visit Technology Base. With a 3 km runway at a former military airbase Technology Base is a unique location for R&D, simulation and test for aerospace related companies.
At Technology Base/Space53 you will be informed about the latest developments in unmanned systems. You will experience live demonstrations of the newest drone technologies.
We will continue to beer brewer Grolsch. Its history stretches back to 1615, making it one of the oldest companies in the Netherlands. Since 2016 Grolsch is part of the Japanese company Asahi. Apart from brewing delicious beers they are also very active in sustainability which will also be showcased during the visit.
We hope this day will inspire you and gives you food for thought on the opportunities for your organization in Twente.
Programme
10:15    Gather at the public parking place near European Go Cultural Centre (Dujat Bus travelers only)
10:30    Dujat Bus departs to Twente
12:30    Arrival and registration at Space53 + lunch
13:10    Welcome by Fons de Zeeuw, Director International at OostNL
13:30    Space53 presentation: Matthijs Nederveen, Project manager at Space53 – Drone Flight Company)
13:50    Drone applications presentation: Roger Borre, CEO at Robor Electronics
14:00    Drone demonstration
14:30    Bus tour at Twente Airport by Joep van Aaken, Development Manager Technology Base (for all attendees)
15:00    Departure to Asahi Europe / Royal Grolsch
15:30    Reception with coffee / tea in the Grolsch Brewery, followed by welcome and presentation by Koert van't Hof, Corporate Affairs Director
16:15    Extensive tour through the brewery
17:30    Tasting of the delicious Grolsch beers and Radler
17:40    Kampai / Toast
17:45    Start networking reception and dinner buffet
18:45    Closing by Geert Jan Mantel, Chairman of Dujat
19:00    End of reception, Dujat Bus departs to Amstelveen
Registration for the event is possible on our event site – until Friday, 3rd of May. There is only room for a limited number of people, so make sure to register as soon as possible!

For more information, please take a look at our Event Site. We look forward to welcoming you in Twente!

With kind regards,

Dujat – Dutch & Japanese Trade Federation
Oost NL – East Netherlands Development Agency